04

Thursday Sept 4: KODAC HARRISON AND THE UPBEATNIKS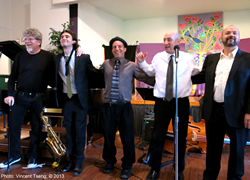 Producing sounds inspired the music and poetry of the Beat Generation, Kodac Harrison and the Upbeatniks put a 21st Century spin on Jazz and Spoken Word.
CANCELLED DUE TO RAIN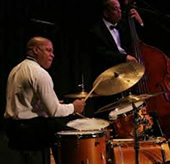 11

Thursday Sept 11: KERMIT WALKER & THE JAZZ PROPHETS

featuring vocalist Azure McCall, Louis Heriveaux (piano), Zak Graddy (sax) and Curtice Lundy (bass)

Beginning at age 7 with piano lessons, drummer, composer, teacher, arranger and vocalist Kermit Walker became serious about drums at age 11. After high school, Kermit played in the touring band of Jazz Hall of Fame pianist Johnny O'Neal. Soon after he attended Berklee College of Music and Cleveland Institute of Music.

Kermit excels in developing a musical conversation with band mates. Combined with his vibrant, yet subtle, rhythms and finely crafted technique, this emphasis on interaction draws fellow musicians to him. Pianist Kevin Bales: "Kermit loves to swing. He plays for the feeling of the music at all times, supporting everyone. He never shows off his chops unless it's what the music needs."

Many jazz icons have invited Kermit to perform or be a group member, among them his uncle Jimmy Scott, Milt Jackson, Wynton and Bradford Marsalis, Ray Brown, Nancy Wilson, Russell Malone, Jimmy Smith, Stevie Wonder, Wallace Roney, Cyrus Chestnut, Randy Johnston, and Donald Harrison.
18

Thursday Sept 18: FRANK BARHAM'S BRAZILIAN FUSION

Brazilian Fusion features Frank Barham on chromatic harmonica, Roberto Chiapetta on guitar, Khari Simmons on bass and Emrah Kotan on drums

"Chromatic harpist and bandleader Frank Barham quietly, yet expertly plays the role of Conductor of Musical Energy. From his interactions with the talented musicians with whom he collaborates, the way he connects with the audience, and his interpretation of music, he is channeling, building and releasing a show with such a positive vibe that the audience leaves with a whole new perspective on what is possible in a live music show. We look forward to Barham and his band gracing our stage for many years to come!"

Tamara Fuller, The Velvet Note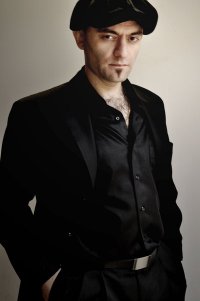 25

Thursday Sept 25: EMRAH KOTAN QUARTET

Emrah Kotan is a classically trained percussionist who came to the United States from his native Turkey. The New Anatolian Experience, his current CD, is a collection of original compositions and arrangements that fuse world music and jazz, creating stylistically sophisticated vibes and a genuine model of personal artistic expression. After playing some of the most renowned venues in the world such as the Istanbul Jazz Festival, Playboy Jazz Festival and The Blue Note in New York, Emrah is one of the most sought after musicians in the Atlanta music scene. His unique musical ability transcends many genres and cultures. He is involved in various musical projects, including his own, and is the drummer/percussionist for Grammy award winning artist, India.Arie. Emrah is also an enthusiastic music educator. He currently serves as the Director of the Jazz and World Percussion Ensembles at Agnes Scott College.