01

Thursday Sept. 1st – Glumson Brothers w/ Jeff Holt

Details coming soon…
08

Thursday Sept. 8th – Mace Hibbard Quartet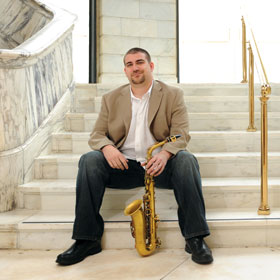 The foundation of the collaboration between the members of The Hibbard/Wright Project is an immense appreciation for original compositions; specifically, compositions that encompass a wide variety of musical genres. Labeling the music on this stirring new release can be difficult: Straight-ahead jazz? Instrumental Indie rock? Avoiding the need to brand their music, The Hibbard/Wright Project is a perfect demonstration of the collaboration between award winning composers and musicians. While still containing well-crafted improvisations, the writing is what takes center stage on this exciting new project by four of Atlanta's most well respected musicians.
This collaborative new project led by Grammy winning saxophonist Mace Hibbard and former Squat guitarist Trey Wright developed through a mutual admiration for each other's original compositions. Over the past 10 years, the Trey Wright Trio and the Mace Hibbard Quintet have each created a unique repertoire of original modern jazz music while developing an enthusiastic audience throughout the Southeast. Both groups also feature the innovative rhythm section of drummer Marlon Patton and bassist Marc Miller. With The Hibbard/Wright Project all four musicians have created an album that combines each member's unique voice as a songwriter and an improviser of modern music.
15

Thursday Sept. 15th – Tito Gato w/ Reece Harris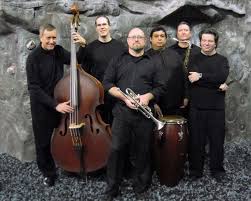 Spontaneity and fine musicianship paired with no-holds-barred passion and fiery rhythms comprise the key elements that make popular Atlanta Latin Jazz band Tito Gato one of the most exciting bands on the scene. Tito Gato truly redefines jazz with addictive beats inspired by the music of Brazil, Venezuela, Cuba, and Puerto Rico, among other tropical countries. Perhaps the best description of the band's music comes from the group's founder Daniel Padrón who aptly characterizes the music as "a celebration of life."
Established in 1992, Tito Gato is one of the longest-running bands in Atlanta. The group is comprised of six respected and sought-after professional Atlanta-area musicians – Daniel Padrón (band leader/founder, keyboards, piano), Paul Poovey (trumpet), Jason Matthias (tenor sax), L.A. Tuten (bass), Reece Harris (drums), Miguel Castro (percussion). When first formed, the band, originally called Wild Rice, was a jazz quartet featuring a female vocalist. Over the years the group has morphed with the times and is now primarily an instrumental band that welcomes vocalists on certain arrangements.
In 2014 it was decided that the band needed a new direction and the name "Tito Gato" was decided upon. when brainstorming band names, Carla, Daniel's wife, jokingly said "Tito Gato," but Daniel liked it. Tito happened to be the name of their new kitten and ended up becoming the band's mascot.
One of the elements that set Tito Gato apart for the crowd is that most of the compositions are original pieces created by the band's creative force Daniel Padrón. Having been born in Caracas, Venezuela but raised in the States Daniel's musical perspective is unique and knows little boundaries. Daniel says, "Each tune is a journey where you start at home, go in different directions and different places but always have a sense of return, a sense of everything coming back together." The music has been described as "distinctive" and "spirited" with "blistering grooves that stir the imagination." One thing is for certain: Tito Gato's dynamic rhythms stimulate the senses and quite simply force you to get up and move your body to the contagious tempos.
A long-time fan favorite at festivals, local gathering places, wedding receptions, private parties and corporate events, Tito Gato also performs live at some of Atlanta's most well-known events such as wildly-popular Inman Park Festival and others. The band performs regularly at Café JAYA (www.cafejaya.com) in Stone Mountain village. More performance information can be found on the band'sWebsite (www.titogato.com).
Most are hard-pressed to categorize the Tito Gato sound but all agree that the catchy melodies and solid, infectious Latin tempos inspire people to move, dance and enjoy life.
22

Thursday Sept. 22nd – Darren English Quartet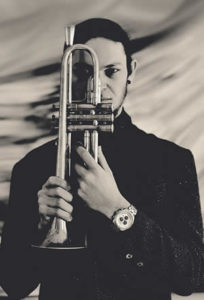 South African born trumpeter Darren English, is the two-time recipient of the Fine Music Radio (FMR) Award and the 2012 recipient of the SAMRO Overseas Award.
He has performed with UK Reggae artist Finley Quaye, UK Pop artist Craig David and US pianist Joe McBride. His most notable performances have been with Grammy® Nominated trumpeter Russell Gunn, being the soloist in his Krunk Jazz Orkestra featured at the Atlanta Jazz Fest (2014), with vocalist Carmen Bradford (Count Basie) as well as performing and recording with Curtis Harding Soul Power, with Grammy® Award saxophonist Kebbi Williams (Chris 'daddy' Dave, Tedeschi Trucks), Greg Tardy, Joe Gransden, the Marcus Lewis Big Band, Duffy Jackson, Dwayne Pate, Gordon Vernick, Dave Matthews (Carlos Santana) the Kevin Bales Quartet, Lil' John Roberts, Marcello Pellitteri, and Louis Herivauex, to name a few.
Recently he has been featured in the US at the Atlanta Jazz Fest with his own quintet, as well as being the featured young artist at the 2015 Sitka Jazz Festival in Alaska and in Livorno (Italy) with vocalist Michela Lombardi, being a featured soloist on Russell Gunn's new record The Sirius Mystery (2016), and the featured trumpeter with the Listening to the Ground Project featuring UK flautist Eddie Parker at the 2016 Cape Town International Jazz Festival in South Africa.
He has recently released his debut album Imagine Nation under Atlanta's top jazz label, Hot Shoe Records®, which features trumpeter Russell Gunn, Joe Gransden, vocalist Carmen Bradford (Count Basie Orchestra), saxophonist Greg Tardy, pianist Kenny Banks Jr, drummer Chris Burroughs, bassist Billy Thornton and the recorded voice of Freedom Fighter Nelson Mandela – which has been receiving rave reviews in the US, EU, UK, and South Africa. Darren is exclusively endorsed by B.A.C. Custom Artist Series Trumpets.
29

Thursday Sept. 29th – Bonaventure Quartet Charles Williams w/ Amy Pike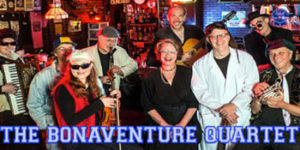 What do you get when you combine the 1930s gypsy-jazz stylings of Django Reinhardt and the torchy-twangy mezzo delivery of Patsy Cline with a rowdy troupe of Romani-esque instrumentalists? The only correct answer would be the Bonaventure Quartet! This longtime Atlanta outfit handily transplants you to another time and place while putting their own stamp on it all. The ensemble's latest album, Lost and Found at the Clermont Lounge, may take its title from the Poncey-Highland dive-turned-tourist-attraction, but the disc's 15 songs traverse decades, regions, whole continents. The BVQ's first album, 'The Secret Seduction of the Grand Pompadour' made the Creative Loafing's list of the Top 101 Albums of the Decade: Atlanta's Greatest Hits, 2000-2009, and garnered praise from national press. With Amy Pike, (formerly of the Lost Continentals), Charles Williams, (Aquarium Rescue Unit featuring Col. Bruce Hampton), and Dan Coy on guitars, Joel Morris on drums, Mark Bynum on bass, Don Erdman on saxes and clarinets, Gabe Granitz on accordion and Ken Gregory on brass, the BVQ has played almost every festival and stage in Atlanta. Come enjoy the BVQ's unique acoustic sound, a virtual melting pot of European influences, camp, and swing noire.
The band is versatile and performs in a variety of ensembles. We start with an instrumental trio, quartet, and quintet playing the music of Django Reinhardt and European swing, latin, and waltzes. Then simply add vocalist Amy Pike, drums, horns, and our repertoire expands into a mixture of classic standards and original music. From a trio to Big Band, we can fit any event or show.
"The swaying, jazzy, Reinhardt/Grappelli-inspired music of the Bonaventure Quartet is a rare treat, and this group does an amazing job of capturing that era. With Amy Pike on vocals, this is a perfect combination."
-James Kelly, Creative Loafing
Best of Atlanta 2008, 2009, 2010, 2011-Creative Loafing
WABE 90.1's feature on the BVQ http://news.wabe.org/post/bonaventure-quartet-tunes-atlanta-area-performances
https://www.facebook.com/pages/The-Bonaventure-Quartet/189925627712144
http://www.youtube.com/watch?v=kGtOdRQCyqY
http://www.youtube.com/watch?v=aNNFPxAbxO8
https://www.youtube.com/watch?v=WNH65ZcP-UU